Monday, December 11, 2006, 10:18 PM - Travels, Sex, Politics, Dancing, Snow, George, Friends, Food, Books, Technology, Art, Los Angeles
I've been terribly neglectful of this little enterprise post-election - mostly because the last thing I wanted to do was spend a single additional second looking at a screen. (I've read three novels and am reveling in Against the Day now, which will slow down my book-devouring rate considerably). The beginning of November was a frenzied adventure- although we were better prepared than in 2004, things as always slid just under the wire (on election day people were making 40 calls a second with our tools - it was amazing to watch people swarm through our lists)...then election night was blissful, and the morning after even better. It felt wonderfully fulfilling on 11/9 to come back from a run along the Seattle waterfront (the first sunny day since I'd arrived) and see Rumsfeld getting the axe. I'm sure that our program turned out more votes than the margin of victory in key races (MT senate, several house contests, probably VA Senate as well) - of course we were only part of a larger progressive effort, but it's exciting to know we had such an impact. I've been on an extended episodic victory tour - multiple DC parties, and little celebration cocktail evenings in SF and NY, which were all great fun. I've been to one disjointed, we-were-still-too-tired-to-think official debrief, and one enervating multidisciplinary free-for-all that was loads of fun. I'm back in LA, wrapping up my work at GCI - getting ready to dig into all the data from Call for Change as part of a team of people working for MoveOn to make sure we understand what we did and learn as much as possible for next time. It's always a little hard to go from being so thoroughly consumed by a project back to a more balanced life, and I'm a little nostalgic for that laserlike focus, but this is infinitely more sustainable. Dad came out and Angela and Erik and Aurora came down for Thanksgiving and we all had our first Angeleno holiday - lots of sitting in the sun and as many revisionist recipes as George would let us get away with. I've been rediscovering the pleasures of cooking and reading the New Yorker and spending whole afternoons with friends. It's nice to remember that I like to eat in fancy restaurants (have had tasty dinners at Frankie's 457 in Brooklyn and Joe's in Venice and Lucques in LA) and go see art. I have done some dancing, but I need more of that. There are, as always, intriguing new and resurfacing romantic possibilities, which will at minimum be interesting to explore. I hope to get into some of that abundant early-season snow soon, too. What I'm not particularly motivated to do is keep writing this - it's been quite enjoyable, but I'm going to keep my personal ramblings a little more closely held. I think it'll be healthy, although probably less entertaining for many of you. I'll likley start some sort of painfully geeky political data diatribe after the holidays, that only I'll read. And I'm sure there will be the occasional tidbit I won't be able to resist posting...we'll see. Love and mounds of appreciation for everyone who helped with Call for Change and let us all find out what winning an election feels like. I'll try and make sure we get used to it.
---
Saturday, October 21, 2006, 01:59 PM - Politics, Technology, Los Angeles
We had a huge night of phonebanking in LA on Thursday - more than 80 people in the office, so big we spilled out into the parking lot. There's nothing like processing a juicy voter file (I think it was CA_04) in the balmy night air. Rigging the random outdoor lighting system was the closest I got to Burning Man this year. It's been a very labile week - you'll notice the shameless product placement for my spiffy new core duo Vaio (good) but I have it because my old one fried on Tuesday (very very bad - thank god for ibackup). I lost about 6 hours, and a fair amount of composure and focus, which resulted in a (fixble) fuckup in part of our Ohio file, but hopefully no lasting damage. Happily, the project's made more than 1.5 million calls to voters in competitive senate and house races to date - how many calls have you made??
Call for Change.
Come down to the phonebank in LA (4929 Wilshire @ Highland, Suite 1060), SF (1366 Mission Street @ 9th), or Brooklyn (102 1st Place - first floor), but I can't promise you the picnic table unless you live in LA.
(btw, comments are off again for the time being, I don't have time to deal with the spam comments that have started popping up again).
---
Tuesday, August 15, 2006, 06:42 PM - Technology
Look- it's my first-ever podcasted babblings! I wish I had time to listen to it...I seem to remember going off on some rant about women being inherently more worthy candidates than men...
Gender and the Social Web
- panel presentation from NetSquared conference in San Jose in May.
---
Thursday, August 10, 2006, 02:27 PM - Sex, Technology
OK, this is from a proposal that was submitted to me today for an IVR (interactive voice response) project I'm scoping out, but I really think I should post it on Nerve with "Wanted:" in front of it and see what I get:
Flexible, future-proof architect[ure], facilitating standardized integration, real-time modification, easy access to additional capacity, and support for advanced speech plug-ins.
Maybe a certain blond Silver Lake designer's card should read "future-proof architect"? I am such a geek.
...
OMG, it gets better - there's also
"No excuses" support, "best in class satisfaction", and "disaster recovery capability".
Maybe I should put out RFPs instead of going to parties....
---
Tuesday, June 27, 2006, 03:13 PM - Technology
Amendment up for a vote in the Senate Commerce Committee today...
did you make your phone calls?
Make some phone calls!
---
Friday, June 9, 2006, 12:06 AM - Technology
If you haven't done anything yet on the Net Neutrality stuff, there's likely a vote tomorrow...get on it. Click
HERE
to get your name on the petition. And call your rep.
---
Wednesday, May 24, 2006, 11:04 AM - Politics, Technology
MomsRising.org is going to the
NetSquared conference
next week in San Jose. Joan will be speaking at the plenary (
"Grassroots, Netroots, and the Beginning and End of Politics"
) on Wednesday morning with Amy Goodman and Michael Turk on how her work with MoveOn and MomsRising has changed the way we think about and participate in politics. I'm on a panel Tuesday afternoon lead by Lisa Stone (from
Blogher.org
) about
gender and social networking
- not that I'm an expert, but I'd love to get feedback from the conference attendees on how MomsRising can make the best use of social networking tools, as well as what enhancements we could develop that would benefit the open source online organizing community.
---
Thursday, May 11, 2006, 02:35 AM - Politics, Technology
I'm happy to report that our first LA Net Tuesday was a success - we had an interesting diversity of attendees and a presentation from
www.stickam.com
on their live streaming video of the May 1 immigrant rights demonstrations. People who came were a mix of nonprofit folks (California Association of Nonprofits, Asian Pacific American Legal Center), freelance programmers and technologists, people working in the for-profit technology sector interested in social change (Yahoo, NetworkLive) and politics (LA Councilmember Garcetti's Communications Director). We were a small enough group to have an interesting discussion about the role of technology in the organization, documenting, and analysis of the May 1 demonstrations - as well as our responsibilities as technologists to be aware of and try to minimize the digital divide. We had fun discussing the role that myspace.com had in organizing student protests, brainstorming tools we need to better filter information to support progressive debate, and thinking about how linguistic differences limit the adaptation of progressive technology solutions for immigrant communities. We talked a little about topic ideas for another session, and people seemed interested in coming up with a project or goal for the group (maybe helping to do communications training for students organizing on immigrant rights issues?). Come to the next event and find out more - we may move out to the west side for our next meeting...
---
Saturday, April 22, 2006, 06:25 PM - Technology
So part of why I've been so slack on the blog front is that our new site launched this week - I've been working to help get
MomsRising.org
off the ground, and it's finally happened. I'm really pleased with the site, and I'm itching to get Phase II social networking and user content components up and running. Would love to hear your thoughts on the site...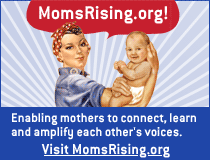 ]
|
related link
---
Friday, April 7, 2006, 10:02 PM - Technology
This week I signed myself up to be the hostess/ instigator of
Net Tuesday LA
. I had such fun in SF cocktailing with the progressive geek elite - I think it will be fun to start the same kind of event down here - there are lots of cool projects happening around the southland, and hopefully we can get the people behind them to drive to the same place once a month and plot the revolution in person. Anyone have suggestions for a good bar/ backroom space that would be geek-friendly? I'm aiming to have the inaugural event the second Tuesday of May.
---
Next